Image
September 14-May 30
Thursdays 1-3 pm
The library meeting room is reserved every Thursday from 1-3 pm. The first Thursday of each month, Ms. Amy, one of the Youth Services Librarians, will lead the group activity. This will be different every month and will be a structured class time of art classes, cooking classes, science fairs, hands-on math games, etc. 
The rest of the Thursdays are up for interpretation! Regular attendees of Homeschool Hour may sign up to lead activities on the clipboard located at the Children's Desk. Every week will be fun and full of variety, giving the homeschool community a chance for learning and connection.
Click here to learn about notable dates. 
Need personal assistance?
Contact youth services librarian Amy Kalchik at amy.kalchik [at] mounthorebwi.info. 
Homeschool Collection
Image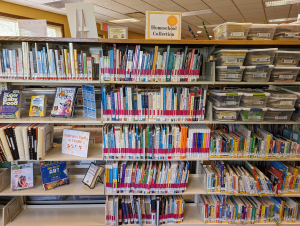 The Homeschool Collection is located in the Children's Area near the Parenting Collection.
We have many resources to choose from, including elements from the following curriculums:
Life of Fred
Five in A Row
Well-trained Mind Press
The Thinking Tree
Saxon Math
The collection is arranged according subjects areas in the Dewey Decimal System, not grade level.
Here is a quick guide:
000 Generalities
     020 Library & Information Sciences
100 Philosophy & Psychology
200 Religion
300 Social Sciences
     320 Political Science
     330 Economics
     340 Law
     370 Education
     390 Customs, Etiquette, Folklore
400 Languages
     425 English Grammar
500 Natural Sciences & Math
     510 Mathematics
          512 Algebra
          513 Arithmetic
          516 Geometry
      530 Physics
     540 Chemistry & Allied Sciences
     550 Earth Sciences
     570 Life Sciences
600 Technology (Applied Sciences)
700 The Arts
800 Literature & Rhetoric
     810 American Literature in English
     811 Poetry
     812 Drama
     815 Speeches
900 Geography & History