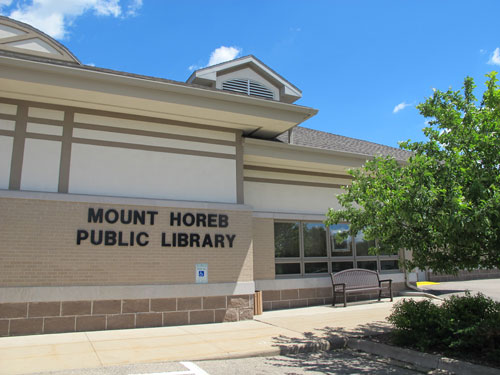 Part-time Frontline Help Desk and Circulation Librarian 
The Mount Horeb Public Library is looking for an outgoing, friendly librarian who excels at customer service! Viewed as "the face of the library," the ideal candidate must enjoy assisting and serving the public. The position requires top-notch customer service and ability to market library material and services to patrons. Schedule will vary and includes evenings and Saturdays. The ideal candidate will enjoy working at both Circulation and Help Desks. Time at both desks will flex with staffing needs. The ideal candidate must be proficient at multi-tasking as many of the job functions must be accomplished while working at the Help Desk. The position may also share some collection development and technical processing duties.
For a complete Position Description, please click the following link: Frontline Librarian Position Description
Approximately 20 hours per week in the following breakdown: 18 hours per week, 1 Saturday per month, 1 mandatory staff meeting per month; Wages starting at $18.50 per hour; pro-rated benefits.
Schedule may flex some, but will general weekly schedule will be as follows:
Tuesday: 9:00 am to 2:00 pm
Thursday: 3:00 pm to 8:00 pm
Friday: 9:30 to 5:30 pm
To apply, please send cover letter, resume, and three professional references to Jessica Williams, Library Director, at by Friday, October 26th at 5 pm.
|10.05.18|