Image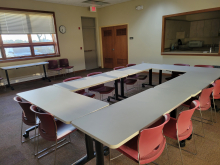 Local non-profit groups may use reserve and use the meeting room for free. Commercial businesses may be eligible to use the room for an hourly fee ($10.00/hr. for Meeting Room, $20.00/hr. for Meeting Room and Kitchenette). The meeting room must be reserved in advance to guarantee availability. 
The Meeting Room includes a conference style table arrangement that seats 12 people comfortably. The flip top tables may be moved and nested to accommodate up to 20 people. 
Meeting Room Usage Policies, Reservations, and Fees
Our meeting room reservation form must be filled out for each reservation.  
New! Online Reservation Form 
Note: The room is not reserved until you hear from a library staff member.
If you'd prefer to print out the form and drop it off, you may download it below. 
View the calendar below for available reservation dates. (We update the calendar regularly, but some prior reservations may not show immediately.)
Please note: This is not the library event calendar. View library events here.